SMS/Mobile is perhaps the only platform that allows marketers to reach prospects wherever they are, at-the-moment of ad broadcast. Mobile advertising offers a truly unique platform for marketers to reach consumers of all ages. Cell phones are the one device that nearly all Americans have within a few feet of them, at all times. This presents marketers with the ability to target consumers both at home and on the road.
What is the rate of success for SMS marketing?
Research conducted by Crazy Egg shows that nearly every text message from marketers is opened, but there's more. up to 45% of users respond to marketing SMS messages and allow brands to have conversations with consumers in real-time. In comparison the marketing emails sent via email receive an average open less than 20 percent (more on this in the future).
According to the Attentive Mobile Consumer Survey 51% of people will be more inclined to complete purchases directly if they receive an SMS which includes an ad coupon for discounts and QR codes. SMS marketing messages with media and images also perform more effectively. 33% of customers aren't concerned about the format of the message, so it's relevant to them.
More than 91% of consumers want texts from businesses. Nearly 56% of them have received texts from companies and nearly 25% of them declare they would like to be a part of the correct brand. Just 10% of customers do not care about this type of communication.
The market for SMS marketing will be worth an estimated $12.6 billion by 2025.
The experts at Grand View Research report that Grand View Research's experts have reported that United States' SMS marketing market is increasing at an annual compound growth percentage (CAGR) in the range of 20.3 percent between 2019 and 2025. In 2025, the market is expected to be worth $12.6 billion. This massive growth is caused by SMS marketing expanding into new sectors and the development of AI-powered tools which allow SMS services to be simpler and more efficient for brands.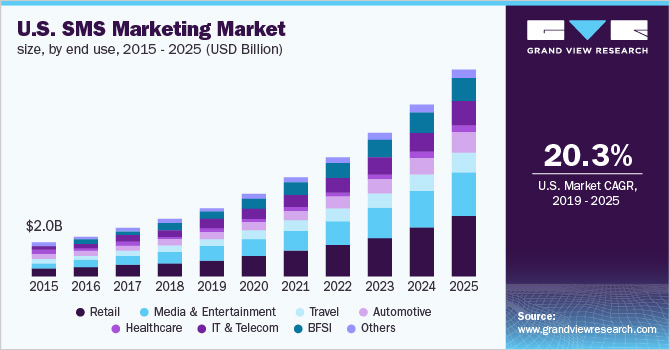 Source: Grand View Research
Through creative services and graphic design, the qualified team at Best ROI Lists understands how to catch people's attention on the phones they look at all day.
Best ROI Lists utilizes P2P campaigns for ultimate reach and compliance.
What exactly is P2P Messaging?
Peer-to-Peer (P2P) messaging is a type of communication in which two people communicate with one another via SMS as a medium. Typically, this would be one-on-one conversations. When you text a friend – you're doing P2P.
This type of communication should not be confused with A2P messaging, which is utilized by businesses to stay in touch with their customers through automated means. The distinction is that in A2P we transmit and trigger messages in bulk automatically like an email blast. However, with P2P we manually send each message, and can send and receive replies.
Why is P2P Messaging important?
What sets this kind of messaging from other types is the fact that users do not require another app to begin the sending and receiving. From a simple phone to the most recent smartphone, every phone supports SMS. This is why it's universal.
With the open rate that SMS provides, there's no better alternative to this channel in the world of the internet. If you need to give any information or share an urgent update with a loved one or acquaintance, this 160-character channel is the most ubiquitous option.
Additionally, with P2P campaigns, it is completely legal to send a message to anyone. When you text a friend from your phone, you don't have to seek permission for them to opt-in to your messages. The same is true for P2P campaigns. You can message anyone!
The Ultimate Opt-In Marketing Vehicle
Our SMS/Mobile Database is composed of 38 million opt-in users who have agreed to receive mobile messaging. These users get a limited number of promotions per month (4 SMS max) and have an easy Opt-in / Opt-out mechanism in place. You can target users by geographic location, or through over 300 separate lifestyle and demographic selections.
Our creative services and graphic design team is a bonus to SMS/Mobile Database of opt-in users. We ensure that you are reaching your target audience with content that catches their eye and increases lead generation for your business.
The mobile world is increasingly crowded. People are bombarded by alerts, dings, notifications, and reminders each hour, not to mention the thousands of ads they see every day. It is imperative to stand out from the noise and encourage your audience to click on your content. If you are looking for support in creative services and graphic design, look no further than Best ROI Lists!
Our qualified team not only understands the data behind SMS/Mobile targeting, but also the right content to engage your customized audience to generate leads. Our team is dedicated to making your marketing campaigns simpler and more efficient. Your team will save time and money working with the Best ROI Lists team on SMS/Mobile marketing for various industries.
The Best ROI Lists SMS/Mobile Database
Reach recipients as young as 13 years of age.
38 million Opt-in users who have agreed to receive mobile messaging.
100% SPAM FREE- all messages are sent in accordance with regulations set by the Mobile Marketing Association
Call the Best ROI Lists team today. Our qualified creative services and graphic design team will work with you to ensure your customized content increases lead generation from our extensive database of opt-in users.